Erin found out about WP Rockstar through an interview Julia did with Esther Inman at the Virtual Assistant Summit. She started a side hustle as a VA and was just dipping her toes in the water, checking if she could actually make it work for her.
She'd already had some contact with website building and WordPress from her previous job as an office manager at her church. But she never got to really dive in and learn the skill, as she had other responsibilities and not enough time.
She really loved her job, but with a 1-year-old baby and a partner who worked full-time, she found herself tired, worn out and exhausted from the long daily commute.

"We didn't want our lives to revolve around work. We wanted work to revolve around our lives. So that's what I was looking for."
She then decided to take the FREE Coding Challenge and give this a go.
Something was not working as it should though, and she was almost ready to throw in the towel. But before that, she decided to send GeekPack® an email and ask for help.
Julia responded to her email personally, and together they figured out what the issue was and how to fix it.
"Her personal touch in that, really caring, making sure that you're successful on what you're trying to do and like, it's okay to be frustrated. I was - Wow, I can really feel like that would be a safe place for me to continue learning this."
By joining WP Rockstar, Erin had the confidence to change her title and share on social media that she was a Web Developer. This simple act landed her first web design client.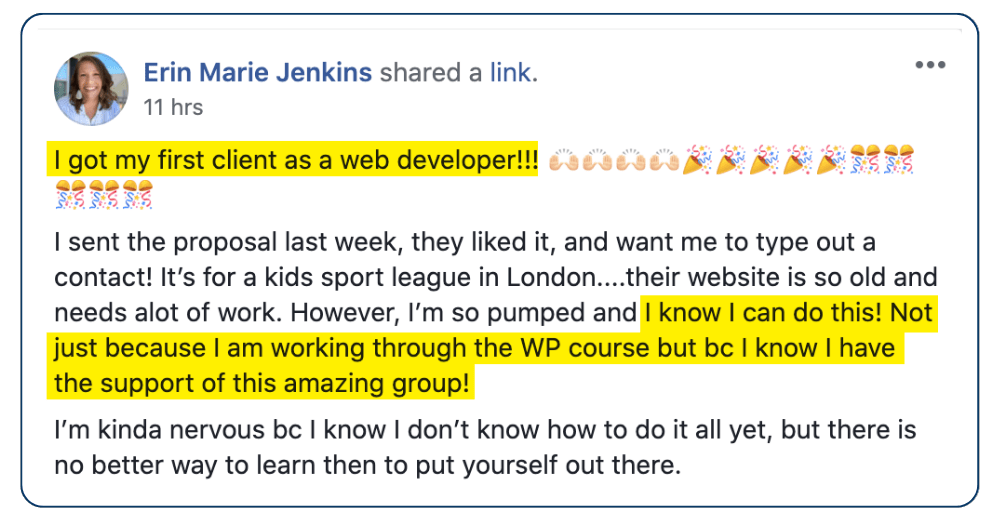 A friend reached out two weeks later saying they were looking for somebody to build a WordPress site for the charity they worked with in London. She wasn't far into the content, but she knew she had the resources and a supportive community behind her, so she said yes!
She charged $1,800 for her first build, meaning she earned back her investment in the course (and some more) within 2 weeks of joining WP Rockstar!
She was nervous, but decided to put in her notice and go into her online business full-time.
"I knew there were other people doing what I was trying to do and they're being successful."
And this leap of faith actually landed her first retainer client.
When she decided to quit, her boss offered to hire her as a freelancer, so she could keep doing some of her job in digital marketing, but from home.
Erin was very impressed with how committed the GeekPack® team is to making sure the students were successful. From reaching out for help on their behalf, to recording personalized short tutorials, she could always get help - even when the team didn't know the exact answer.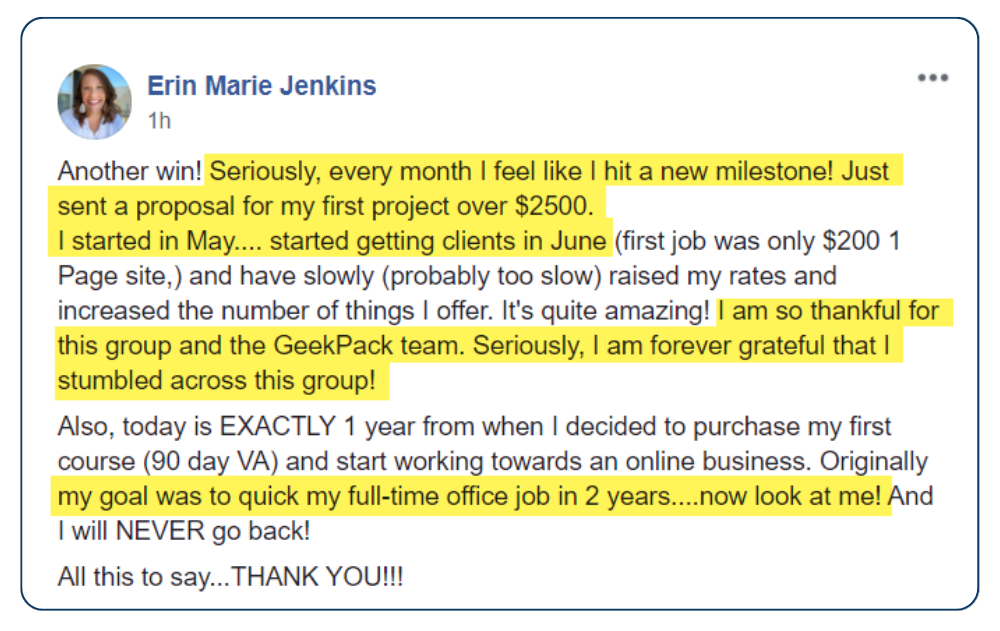 "And to really go above and beyond to answer my question or at least point me in that direction of where I could find the answer. Because, you know, we can't know all things knowable, but I can at least point you to where I think you'll find the answer."
Her business grew much faster than expected, and she wished to continue learning more coding and develop her own WordPress agency. Erin also wants to provide educational resources for small businesses and nonprofits.
Her business continued to grow in 2021 and she was able to make $5,000 a month consistently using the skills she'd learned in the WP Rockstar program.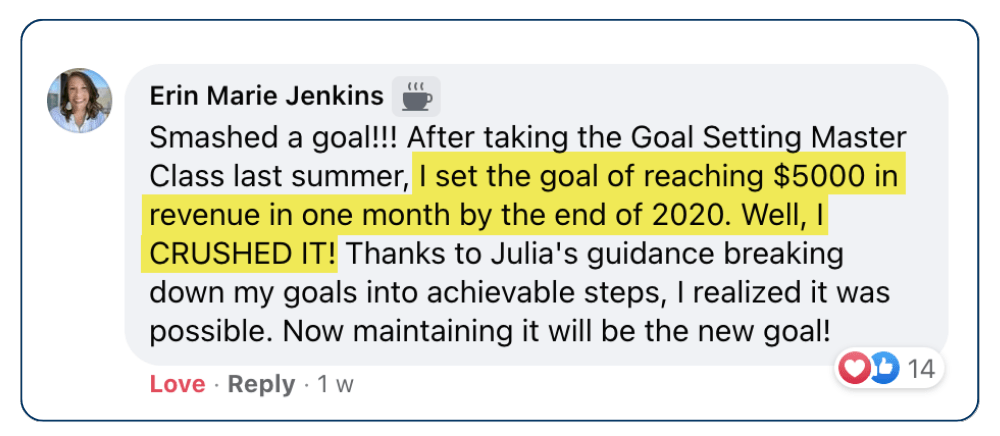 "I was quoting between $8,000 and $10,000 per website project and at the beginning of 2022 I sent two proposals for website projects at over $20,000 each."
Another stream of revenue that's worked really well for her is website maintenance. She decided to do reseller hosting through Flywheel and it has been an amazing experience for her. In a few months, she was already managing 15 websites.
She launched her business just over two years ago and started by charging $1,800 for a website. Now she's working on $15,000 plus projects with a team of her own!
The main reason Erin recommends WP Rockstar to everyone is because it's not just about building websites. The course provides a full curriculum to build a successful business, from tech skills and marketing, to pricing and mindset.

"It's way more than just learning websites. You are learning how to technically build a WordPress website, but you're also learning social media, you're learning content repurposing, learning SEO, you're learning all these other things with the expert content that really makes it a continual value."
After building a successful business herself, Erin still finds value in the Facebook Group. She also loves to offer help and support other students, as that's also a great way to learn.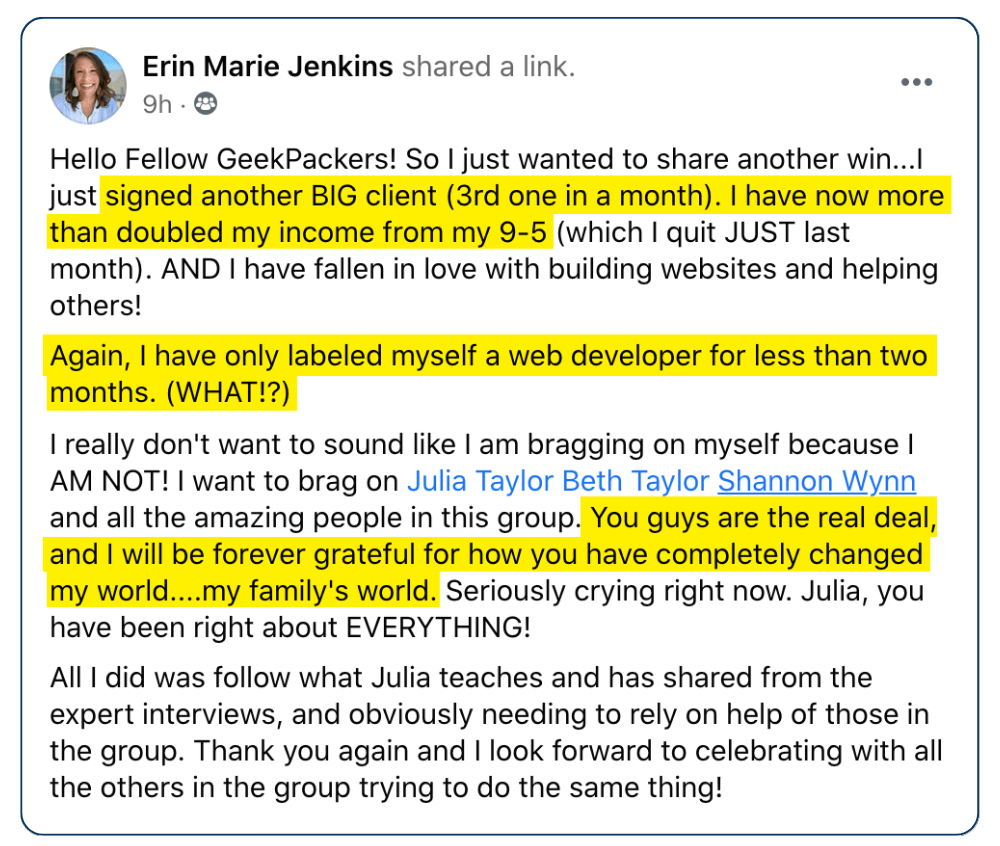 "It's just kind of a cool transition to like, now that I've been in the program for so long and active and finished the course, I am able to give back and maybe help and just encourage somebody else."
And we absolutely love having Erin in the community, watching and celebrating all of her amazing success.
If you, like Erin, would love to quit your day job to have more time with your family and NOT have your life revolving around work, we'd also love to support you through this journey!
The Ultimate Training for Website Building (a la WordPress) + Community + Business Badassery for The Next Generation of Geeks (even if you suck at math and tech, or think you're too old)