GeekPack® exists to empower women & girls to change their lives for the better through the power of code, community & confidence.
With the help of a supportive and encouraging community, we
teach highly valuable technological and business-building skills so that women & girls can have
the confidence to believe that
anything is possible
to achieve.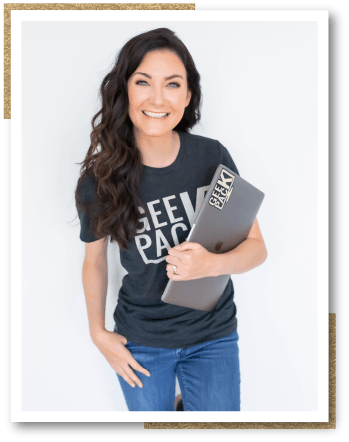 Meet Julia
CEO & Founder of GeekPack®
Julia has taught over 3,200 women (and some awesome men) to say "YES" to learning tech skills (most of whom never considered themselves techy in their lives)!

She is a (former) military wife, self-taught web developer, lover of location independence, and a passionate advocate for women in tech! In the pursuit of her own career and career progression, she taught herself how to code. It was love at first sight and learning this one skill has changed her life in ways that she never thought possible.

Mastering in-demand tech skills has not only been the single biggest driver for Julia's career progression, but it has also enabled her to follow her dreams of a truly location independent lifestyle. From a military wife moving every two years with zero career progression, she has since been able to work from home, work from her RV (yep, she was a full-time RVer for 1.5 years), and now works from anywhere!

Julia is incredibly fortunate to run her multiple 7-figure business from the comfort of her sofa (or wherever in the world she might be)... All because she stumbled upon tech and learned marketable in-demand skills!

Empowering women and seeing others succeed is the biggest motivator for Julia. And so, she created a platform to teach others the skills that allowed her to take back control of her life and start living on her own terms.